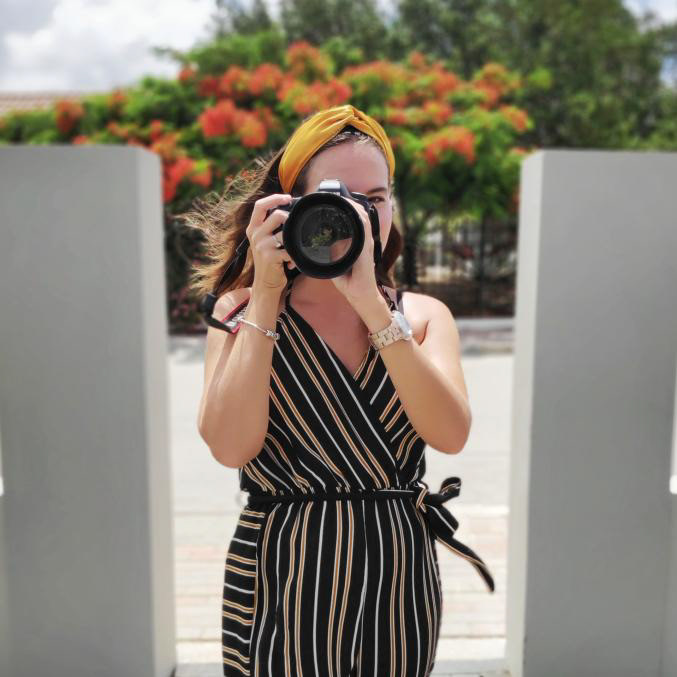 Hi, welkom op mijn website.
Ik ben Gladys van Schaijk, geboren in 1996 in Nederland, Brabant.
In 2008 ben ik verhuisd naar
Curaçao.
Dusja, ik woon hier al langer dan dat ik in Nederland heb gewoond.
Fotografie heeft in mijn hele leven een rol gespeeld.
Als klein kind maakte ik al foto's met een wegwerp cameraatje. 
Het ondernemen en het creatief bezig zijn ook.
In mijn examenklas begon ik met schilderingen maken op bestelling.
Gladys art Curaçao.
Je kon me vinden op verschillende markten met mijn werk en op facebook.
Hoeveel drijfhout ik heb gezocht, geschuurd en geschilderd? Geen idee, heel veel!
Van deze inkomsten kon ik uiteindelijk mijn eerste "compact camera" en later mijn eerste "spiegelreflex"camera kopen.
Daar was Dreamstudiocuracao geboren.
Van 2 hobby's mijn werk gemaakt.

Op een gegeven moment moest er een keuze gemaakt worden.
Het was namelijk niet vol te houden om voor beide 100% te gaan.
Zoals jullie merken heb ik deze keuze gemaakt.
En geen moment spijt van gehad.

Het heeft alleen maar voordelen.
Doordat je zelfstandig ondernemer bent heb je geen collega's. 
En met het schilderen zit je dan ook dagen alleen thuis aan het werk.
Soms best eenzaam dus.
Met het fotograferen ben je altijd met mensen bezig, elke dag weer andere klanten.
Altijd vrolijke mensen.

Ik ben iedereen dankbaar dat ik dit beroep elke dag weer mag uitvoeren.
Mijn droombaan!
Ik hoop jullie daarom ook snel te zien bij een shoot!
Kijk rustig even rond in mijn portfolio.
Voor prijzen kunt u me een berichtje sturen, ik probeer z.s.m te reageren.


Hi, welcome to my website.
I am Gladys van Schaijk, born in 1996 in the Netherlands, Brabant.
moved to curacao in 2008.
So yes .. I have been living here longer than I have lived in the Netherlands.
photography has played a big role throughout my life.
As a small child I already took pictures with a disposable camera.

Doing business and being creative too.
In my exam class I started making painting commissions.
Gladys art curacao.
You could find me in different markets with my work. & on Facebook.
how much driftwood I searched, sanded and painted? no idea. a lot!
With this income I could eventually buy my first "compact camera" and later my first "DSLR" camera.
There dream studio curacao was born.
Both of my hobbies became my work.
At a certain point a choice had to be made.
It was impossible to sustain 100% for both.

As you can see, I made this choice.
And never regretted it.

It only has advantages.
Because I am  self-employed, I have no colleagues.
I used to spend days working alone at home with painting.
Sometimes being quite lonely.
With photography I am always busy with people. different customers every day.
Always happy people.
I am grateful to everyone that I can do this job every day.
my dream job.

I therefore hope to see you soon at a shoot!
Take a look around my portfolio.
For prices you can send me a message, I try to respond as soon as possible.


Bye!

Gladys